Arbors, Gazebos, Pergolas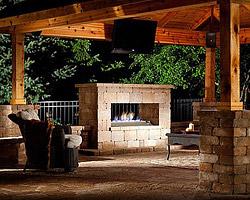 Sometimes, people don't want an outdoor kitchen, or a pool, or a bar, etc, in their backyard. They just want a place where they can relax, enjoy the sun and breeze, and spend time with their family. In such cases, arbors, gazebos or pergolas are ideal installations. They create interesting spaces for people to enjoy and relax in. An outdoor pergola is one of the most popular ways to upgrade a backyard at low costs.

Our expert carpenters here at Superior Paving Systems have installed several arbors, gazebos and pergolas and we've worked on a large number of projects in San Jose, Mountain View, San Mateo, Saratoga, and Redwood City.

We've noticed that people with smaller backyards or gardens generally prefer arbors. Homeowners in Sunnyvale, Palo Alto, Santa Clara, Cupertino, and Fremont with bigger yards like pergolas.


Stunning Arbors, Gazebos, and Pergolas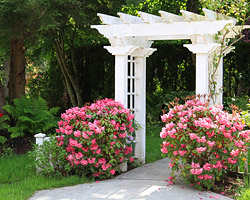 We have been around for over 16 years and some of our employees have been a part of the industry for longer. Because of our experience, we know how to build strong, resilient outdoor structures. Our outdoor gazebos have stood the test of time and will be a part of your property for several years to come.

One of the most common questions our clients ask is- What's the difference between the three. Here's a look at them in brief:


Arbors
These structures can be a very charming addition to your landscape. They can be used to divide the space and still add aesthetic value to your garden or yard. Arbors are actually pathway covers, meant to add shade to garden paths and entryways. They're a very affordable way to enhance the beauty of your landscape. Some people add a swing or chairs underneath them to create a small sitting space.


Gazebos
Gazebos are specifically designed to provide shelter and shade in gardens. They're a classic addition to English-styled gardens. They can also be installed near ponds or pools. A gazebo almost always has a solid roof and can be screened or left open. It's important to plan the structure carefully and pick a good location for it. It doesn't always fit in all with all architectural themes.


Pergolas
While gazebos are very thematic and fit in only with specific kinds of architecture, pergolas are more flexible. They can be an extension of the patio, built over a fire pit or fireplace, or in a garden. Pergola design is very compatible with all kinds of styles. Most pergolas don't have solid roofs, but you can add a canopy over it to provide shade on especially sunny days.

All of these structures can be a great addition to your landscape at a low cost. If you have any questions or want an estimate for installing an arbor, gazebo or a pergola, you can contact us at Superior Paving Systems. You just need to fill in this contact us form and we'll get back to you as soon as possible. You can also give us a call at 408-386-1791. We'll be happy to hear from you.