Fire Place & Fire Pit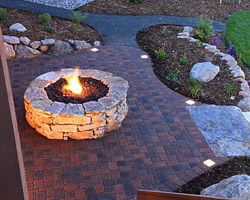 People are no longer content to have just lawns and gardens in their outdoor spaces. They want to utilize their backyards productively. Most homeowners have started to install different kinds of outdoor structures like kitchens, decks, patios, etc. They want to get the maximum use from these spaces. Building an outdoor fireplace is also a popular choice amongst them.

At Superior Paving Systems, we've installed several fireplaces on properties across San Jose, Mountain View, San Mateo, Saratoga, and Redwood City homes. Californian evenings can be a little cool, so a fireplace or fire pit can be a perfect addition to your backyard.

Our clients in Sunnyvale, Palo Alto, Santa Clara, Cupertino, and Fremont have experimented with several designs. Some have installed modern and minimalistic fire pits, while others have added rustic and dramatic fireplaces.


Advantages of Fireplace and Fire Pits
Both installations have their own charm. Installing one or the other is entirely a matter of personal preference. There are some key differences that can cause you to pick one over the other.


Fireplaces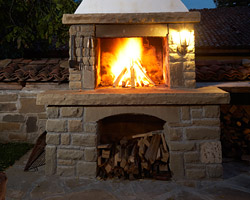 A brick or stone outdoor fireplace has a rustic, long-lasting charm to it. There's nothing quite like cozying up with your family in front of an outdoor fireplace under the open sky. Here are some of the reasons why people choose fireplaces over fire pits:


It creates an intimate atmosphere that you can enjoy with your immediate family or your partner.
It can be a great centerpiece, adding drama and old-world elegance to your backyard. Fireplaces immediately catch the eye of any visitors.
The fire is protected against the wind, so it's great for people living in windy areas.
You can add a stone oven or a pizza oven to your fireplace, converting it into something more functional as well.
It's a great option for people who entertain often or when you have large parties. As we mentioned earlier, fireplaces create a more intimate environment.
Fire Pits
Backyard fire pits are a great addition to homes. They create an entirely different environment in comparison to fireplaces. Here are some reasons why people choose a fire pit over a fireplace:


It's a great installation for people who love socializing. Several guests can gather around a fire pit, stay warm and have fun.
It can be a permanent campfire right in your home. You can grill over it, roast marshmallows, share stories, etc.
People can sit all around the fire pit so there's maximum utilization of space. Unlike fireplaces, this offers a 360° view of the backyard.
Unfortunately, unlike fireplaces, fire pit fires are open to the elements and can't be used in all the seasons.

As we mentioned before, the choice between the two is subjective. We have skilled designers who can install either of them in your backyard easily. If you have any questions or want an estimate, you can contact us at Superior Paving Systems. You just need to fill in this contact us form and we'll get back to you as soon as possible. You can also give us a call at 408-386-1791.