Synthetic Grass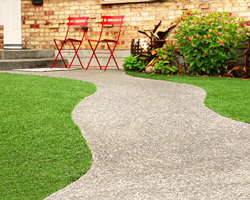 Everyone wants their lawns to look lush and green, but very few have the time to maintain them. Grass requires a surprising amount of effort to keep it healthy. People spend hundreds of dollars in annual maintenance plans to keep their lawns green. There's also the extra expense for watering the grass. Needles to say, sometimes lawns are more effort than they're worth.

At Superior Paving Systems, we've noticed that most people are too busy to maintain their lawns and end up neglecting them. This leads to ugly patches of dry grass and pests. We've encouraged many of our clients in San Jose, Mountain View, San Mateo, Saratoga, and Redwood City to consider artificial turf for their lawns.

Several of our clients have already installed them and are reaping the benefits. People in Sunnyvale, Palo Alto, Santa Clara, Cupertino, and Fremont are also veering towards this option as they have realized that artificial grass doesn't look fake (which was their primary concern).


Advantages of Synthetic Grass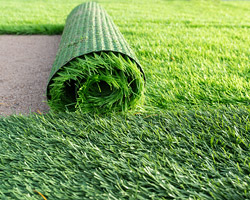 There are several advantages of installing artificial turf. Most people hesitate because of the initial expense involved. We believe, however, that the cost is made up in savings later on.


Convenience – One of the best qualities of synthetic grass is that it's convenient. You don't have to mow it regularly, you don't have to water it, or take any special care of it. You can clean any debris that might have accumulated on it by using a blower.


Long-lasting – The best synthetic grass would last for several years with very little maintenance. Modern grass is uniquely designed to look natural and be resistant to the elements. Even with near-daily exposure to the sun, it's not likely to fade or become dull for at least 10 years.


Maintenance – You don't need to fertilize, add mulch, deal with pests, or face any other hassle. You don't need to worry about children and pets damaging it, either. Essentially, you can enjoy the lawn without investing considerable time and effort in maintaining it.


Overall Savings – As we mentioned before, the upfront cost of these lawns can be expensive. However, you can save hundreds, if not thousands of dollars on maintenance and water bills.


Installation of Synthetic Grass
Several of our clients are curious about the method of installation and the time it takes. Synthetic turf doesn't take a lot of time to install, but it also depends on the ground.


We prepare the ground by leveling it and adding a road base such as crushed rock to the surface. We make sure that the surface is tightly packed.
We add edging to give your lawn shape and a natural appearance.
We roll the artificial grass on the prepared ground, connecting the seams carefully to ensure there are no gaps.
After that, we secure the turf with nails.

Synthetic grass can be a great alternative to natural lawns. If you have any questions or want an estimate, you can contact us at Superior Paving Systems. You just need to fill in this contact us form and we'll get back to you as soon as possible. You can also give us a call at 408-386-1791.