Outdoor Kitchens & BBQs
If you're someone who loves to entertain and cook for friends and family, outdoor kitchens and grills are a great option for you. These structures are becoming more popular with an increasing number of people installing them in their homes. Some years ago, the concept of outdoor cooking never went beyond summer BBQ on the patio or porch. Today, people are installing full-fledged kitchens in their backyards.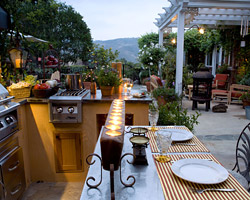 We at Superior Paving Systems have built several outdoor kitchens, big and small, in San Jose, Mountain View, San Mateo, Saratoga, and Redwood City. The weather in California encourages outdoor living, so it's not surprising that so many of our clients use their outdoor kitchens often. We've also worked on landscape projects in Sunnyvale, Palo Alto, Santa Clara, Cupertino, and Fremont. We've build fully functional kitchens on several properties in these areas.


Planning Outdoor Kitchens & BBQs
There are several things to consider when you're planning an outdoor kitchen. The following points are important aspects of outdoor kitchen plans.


Space and Location – It's very important to access your backyard to see just how much space you have. You also need to consider its location. It should be closer to your home, preferably near the indoor kitchen. You should have easy access to gas and electricity as well as some shade.


Size – There are several different size options available to you. You can pick one according to your budget and the space you have in your backyard. You can't have a kitchen without two areas, one for cooking and grilling and others for food prep like cutting and mixing. Everything else, like cold storage and sinks are actually optional. You can avoid them if you're on a tight budget.


Layouts – The layout of your kitchen also depends on the amount of space you have, and your budget. The most popular are the L-shaped and U-shaped layouts. You can also install a single counter, split level, or the 3/4th square counters.


Materials – The materials used to build an outdoor kitchen are the most important factor in the cost and durability. Most people build outdoor kitchens with concrete blocks and add paint or veneer to the walls. You can also use brick, wood frame, steel frame, etc. If you're uncertain, our experts can help you determine which material is right for you.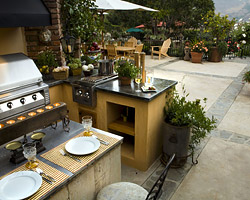 Why Choose Us?
You need the right contractor to build a well-designed, durable outdoor kitchen. We at Superior Paving Systems have been a part of this industry for 16 years now, so our experts can help you plan the best kitchen. With us, you can expect:


Sound advice on the matters of design, budget, and installation
Experienced masons who provide high-quality services
Adherence to timelines and constant updates.

You can contact us if you have any questions or want an estimate. You just need to fill in this contact us form and we'll get back to you as soon as possible. You can also give us a call at 408-386-1791.