Landscape LED Lighting
Landscapes add to the external beauty of your home and can instantly catch a guest's eye. During the daytime everyone can see and appreciate the full beauty of your property; however, during the evenings and the night, most of it is shrouded in darkness. A good backyard needs to be well-lit, and more importantly, strategically lit. You can use structures like fountains, ponds, trees, and shrubs to add a dramatic effect to your landscape.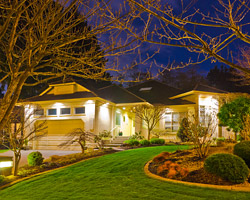 We at Superior Paving Systems have installed outdoor LED lighting in several landscapes in San Jose, Mountain View, San Mateo, Saratoga, and Redwood City. Our intention is to not only to provide adequate lighting to carry out late evening gatherings and dinners, but also to enhance the look of the landscape. We've implemented strategic lighting plans in our projects in Sunnyvale, Palo Alto, Santa Clara, Cupertino, and Fremont as well.


Why LED?
We always recommend LED lighting to our clients, despite the high upfront cost of such an installation. Some are worried about the costs and others about the color. Halogen lights have that warm, yellowish glow that looks great. Most people mistakenly assume that LED landscape lights can't throw an equally warm glow. Here are a few reasons why you should pick LED.


Yes, the upfront costs are high but the long-term savings are high as well. Halogen lights might cost only 15% of the total price of LED lights, but the latter are up to 80% more energy-efficient than halogen lamps.
They're eco-friendly and provide a very crisp light in either bluish white or warmer cream white and you can choose from a range of other colors too.
They're easy to install and stay cool. Because of this, we can easily install them near plants and bushes.
Where to Install Landscape LED Lighting?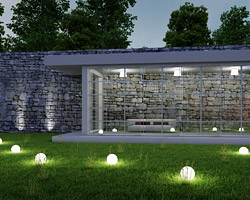 This is one of the more common questions we face. You want to light your landscape in such a way that the best features of it are enhanced. Here's a look at the areas our landscape designers pay particular attention to.


Home – Highlighting the best aspects of your home with LED outdoor lights can increase the beauty of your home. We pay particular attention to stone and brick veneers, entryways, and pillars.


Decks and Patios – You'll most likely host guests or spend time with your family on your decks and patios. You need sufficient light here to be able to freely converse with them.


Steps and Walkways – Adding lights to steps can have a dramatic effect, but it's also vital. These structures need to be well lit so people can easily navigate them without accidents.



We also recommend that our clients add lights to water features, trees, patio covers, driveways, etc. If your backyard is lit properly, it'll only add to the beauty of your home. If you have any questions or want an estimate for a project, you can contact us at Superior Paving Systems at 408-386-1791. You just need to fill in this contact us form and we'll get back to you as soon as possible.