Landscape Lighting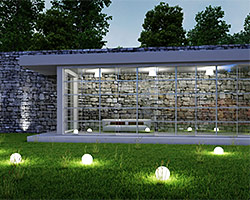 Your property wills standout effortlessly if you have a beautifully designed landscape. You can have flower gardens that bloom all year round, creatively installed walkways, well-maintained topiary, and strategically installed outdoor living features. However, the beauty of these landscape elements is only visible during daytime if there is no landscape lighting installed in strategic areas around the landscape.

At Superior Paving Systems, we can help you enjoy the beauty and functionality of your landscape anytime of the day by installing different types of landscape lighting. We have licensed technicians who have completed numerous lighting installation projects in the state. Some of their works include designing and installing outdoor lighting in residential and commercial properties in Santa Clara, San Jose, Mountain View, Campbell, Los Altos, Palo Alto, Atherton, Los Gatos, Cupertino, and Saratoga, CA. Our crews can create a well-lighted outdoor space by using the best products and modern type of lighting. Call us now at 408-386-1791 for more details about our lighting installation services.


Outdoor Lighting
All outdoor lighting installation should be handled by licensed and experienced contractors. Doing the task in a DIY manner is not recommended since there are certain techniques and methods that only certified technicians can handle. Experienced technicians know the right type of lighting to use, the proper installation of wiring and other electrical components, and the perfect areas where the lighting should be installed. In addition, they have the required tools and materials for this technical job. At Superior Paving Systems, we have people with these qualifications. We have a team of certified technicians with extensive experience in landscape lighting design and installation. They know how to install uplights, downlights, spotlights, underwater lighting, and specialty lighting products.

Meanwhile, achieving your desired lighting effect is also easy if you hire people like us. We are experts in highlighting the beauty of your trees, emphasizing the charm of your water features, or creating focal areas in your garden. We can create an interesting outdoor setup with the use of different outdoor lighting techniques and effects, such as:


Downlighting
Uplighting
Moonlighting
Grazing
Silhouetting
Shadowing
Wall washing
Path lighting
Cross lighting
Outdoor LED Lighting
LED lighting is the most recommended type of landscape lighting today. It is highly decorative and available in various designs to suit the peculiar needs of the customers. All outdoor LED lighting is energy efficient and consumes 90% less energy than incandescent lamps. Maintenance cost is also lower since LED bulbs last 5 times longer than traditional lighting.


Low Voltage Lighting
Low voltage lighting has several advantages, making it the best option for landscape lighting projects. It is safer to install and use compared to traditional types of lighting. Since it uses 12 volts of electricity, you can work on the system while it is on without the risk of electrocution. Low-voltage lights are energy efficient and last longer than incandescent or halogen bulbs. They are typically smaller, so they are perfect for decorative purposes.

Don't let inexperienced installers work on your landscape lighting project. Make sure that you hire expert people like us at Superior Paving Systems. The custom lighting designs that we create can easily improve the beauty, security, and safety of your outdoor space. Call us now.


More Articles