Landscaping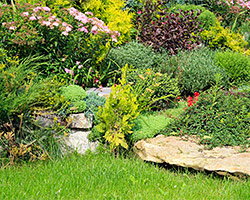 A professionally designed landscaping can dramatically improve the aesthetic appeal of a residential or commercial property. Professionals are skilled in the proper selection of landscape elements that can help enhance the functionality and beauty of the entire outdoors. The installation of various features and amenities is also guaranteed exceptional and long-lasting. But choosing just any landscaper will not ensure that you'll get all these benefits. You must consider the contractor's qualifications such as the length of experience in the industry, the skills and capabilities, and the resources. And if you are still searching for the right people, you can consider getting the services of Superior Paving Systems.

We are known in the state for our top-notch, eco-friendly, and comprehensive landscaping services. Our service offerings include landscape design, installation, maintenance, and other landscape-related services. Most property owners prefer us because of our client-friendly rates. We can work on any kind of project even if the owner has a very limited budget. In fact, we have transformed numerous properties into stunning outdoors by just working on our client's allotted budget. Some of these projects were located in Santa Clara, San Jose, Mountain View, Campbell, Los Altos, Palo Alto, Atherton, Los Gatos, Cupertino, and Saratoga, CA. Please let us know if you are also interested in getting our professional services. You can call us at 408-386-1791 or visit our office so we can discuss the details of your project.


Landscape Design
Harmony is one of the most important factors to consider when designing a landscape. All landscape elements must complement with each other to create a relaxing, well-organized, and beautiful outdoor setup. For example, choosing the right types of annuals and perennials will result in a landscape that blooms all year round. Adding water features, such as waterfalls, ponds, and fountains, will also create a unique but relaxing ambiance in the outdoor area. Meanwhile, the addition of other features, such as outdoor living structures, hardscapes, and wood elements, will complete the landscape design plan. If you need help with this important phase of landscaping, please call us at Superior Paving Systems.


Pavers
Almost all landscaping projects that we handle here at Superior Paving Systems include the installation of masonry structures, such as patios, driveways, walkways, pool decks, and garden paths. These projects must be durable, so we use only top-quality materials. We highly recommend to clients the use of premium pavers for their outstanding qualities. They are sturdy, low-maintenance, and long-lasting. Meanwhile, the types of paving materials that we can use and install include bricks, concrete and natural stone.


Landscaping Ideas
There are a lot of landscaping ideas that you can adopt to make your landscape more appealing. You can focus on the sofscapes, hardscapes, or water features, depending on your desired outcome. For example, installing an English-style garden is a great idea if you have a large lawn area. You may also opt for rock gardens or more hardscape features if you don't want a more eco-friendly landscape. The functionality of your outdoors can be enhanced by adding outdoor living areas.


Concrete Pavers
The hardscape features in the landscape are usually built using concrete pavers. They are the preferred materials for flooring because of the available design options and lower cost of installation. Pavers come in various colors, patterns, sizes, and textures, so property owners can easily have their desired theme or design. But this paver type should be installed only by qualified landscaping personnel. You should look for their certification and training to avoid getting subpar services.


More Articles