Outdoor Living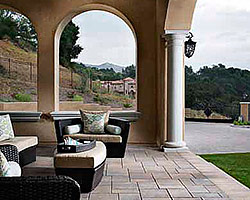 You can maximize the use and function of your landscape by installing outdoor living features and amenities. These additions will also improve the aesthetic appeal of your outdoor space and increase the market value of your property. But choosing the right amenity is a little bit tricky since there are a lot of great options that can also provide the benefits and functions that you desire. The installations of new structures also require careful planning and execution to ensure that they are installed in their perfect locations. With these concerns, it is best to get the services of professional builders.

At Superior Paving Systems, we can create professionally designed outdoor living features for any type and size of property. Whether it's a patio for a home or a large pool deck for an exclusive property, our crews are ready to render unmatched service and positive results. We can also install other amenities such as fireplaces, gazebos, sitting areas, and outdoor kitchens. Please call us if you're from Santa Clara, San Jose, Mountain View, Campbell, Los Altos, Palo Alto, Atherton, Los Gatos, Cupertino, and Saratoga, CA. We have been serving these areas for years, so you are assured of our capabilities as a contractor. Dial 408-386-1791 now.


Outdoor Kitchens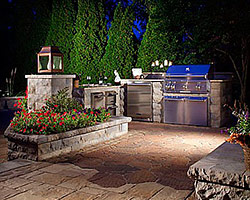 Outdoor kitchen is an essential part of outdoor living. It allows homeowners to prepare meals outdoors while enjoying the beauty of their landscape. The area can also be a perfect spot for small family gatherings or weekend get-togethers where meals are served alfresco style. The good thing about outdoor kitchens is that you can add whatever amenity you like. You can have ovens, rotisseries, grills, freezers, large storage cabinets, and other kitchen fixtures.

And here at Superior Paving Systems, we can build your desired kitchen setup at reasonable cost. We have designed and built numerous outdoor kitchens for California clients since we started our operation years ago. Our company has in-house crews with extensive experience in building outdoor kitchen features. They are known for their ability to create unique designs and maximize the kitchen's overall functionality.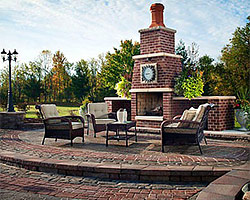 Outdoor Fireplace
An outdoor fireplace provides your needed warmth during cold days or nights. It is best installed in outdoor living areas such as patios, pool decks, gazebos, and outdoor kitchens. When designed by professionals like us, it can also add aesthetic appeal to the area where it is installed. Bricks and concrete blocks are the usual material used in fireplace construction. Our crews can build a customized brick fireplace for you or install a pre-built one, depending on your preferences.


Fire Pit
Fire pits are great additions to your outdoor space. They can be used as an additional amenity in outdoor living spaces such as patios and decks. You can also install a fire pit in the middle of the garden or use it as a focal feature in sitting areas. The great thing about this fire feature is that the design options are limitless. You can have circular, square, or any custom shape that you want. When you hire us, you'll get excellently designed fire pits with complete accessories such as screens, log luggers, covers, and racks.

Let Superior Paving Systems help you experience the best of outdoor living. We can build and install various outdoor features and amenities in your property at costs that will not hurt your pockets. Please drop by at our office soon or call us at 408-386-1791, so we can discuss your plans and other exciting options for your outdoor improvement project.


More Articles